Ashley Kinsel
Deacon of Liturgy & Communion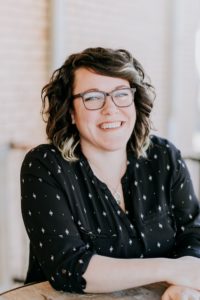 Ashley was raised in Clear Lake, TX. Her parents planted a church while she was still in the womb and her life has been one of participating in and learning to love the whole church. She graduated from Clear Lake High School and went on to study Vocal Performance at Stephen F. Austin. In her sophomore year she felt called to pursue a degree in theology and transferred to Houston Baptist University where she graduated in 2010 with a BA in Christianity and a minor in Sociology.
During college, Ashley led worship and youth at numerous Vineyard churches around Texas. When she graduated, she took a full time position as a Youth and Worship Pastor, back in Clear Lake. As a true multi-tasker she always seems to find herself with a handful of jobs from foster and adoption agencies to wedding planning to organizing soul care for pastors. The core truth is that she just loves to plan, organize, and help where she is needed most. She loves a good spreadsheet!
Her favorite role in life is being with her Kinsel boys. Her husband, Thomas, is a teacher and coach in Dickinson and they have been married for 9 years. They have three boys, Amos, Ruben, and Jude. She enjoys a good home project, crafting, camping, or spending the day outside.