Lauren Kussro
Elder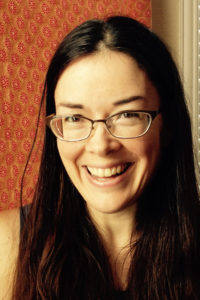 Lauren is a visual artist and a teacher, holding a Masters of Fine Art with a concentration in Printmaking from the University of Tennessee – Knoxville. She is currently an Assistant Professor of Art and Design at the University of Houston – Clear Lake, where she teaches printmaking. Lauren has taught art for almost twenty years – ever since she was an undergrad at IUPUI teaching drawing to high-school students in the Herron School of Art's Saturday School program. She loves being a teaching artist and sharing her passion for art and the magical process that is printmaking.
In her own artwork, Lauren works primarily with the media of printmaking and paper sculpture. Her work has been exhibited in various locations around the country, including the Nashville International Airport, Kai Lin Art in Atlanta, and the Manhattan Graphics Center in New York. Her studio is her happy place and she loves to create meticulous, delightful art. Her most recent sculptures look like botanical confections – luscious colored papers shaped into leaves, flowers, and fungi.
She is a sci-fi nerd (Doctor Who, Star Trek and BSG are perpetual favorites), loves baking and cooking, and is constantly acquiring new plants.