Nov 19, 2020
UPDATE: Great news, thus far we have raised over $2000 for the hurricane relief! The last day to donate is this Sunday, December 6th. To learn more about the fundraiser, read below...
---
The past couple of weeks Central America was hit hard by two hurricanes causing widespread flooding and catastrophic wind damage. We want to EMBODY LOVE by raising funds to help two Honduran churches with hurricane relief in their communities. For each donation of $20 or more we will be gifting you an EMBODY LOVE t-shirt. All proceeds will go directly to these two churches in Honduras to help them as they seek to meet needs in their communities. Megan Turley is our mission partner on the ground in Honduras. Her father-in-law pastors a local church in San Pedro Sula.

This is what Megan said about the churches with whom we are working:
The pastors are Francisco and Lilian. They pastor two small churches: the Shalom Mennonite Church here in Colonia San Sebastian in San Pedro Sula and Lighthouse Mennonite Church in a small community called El Buen Pastor near Santa Rita, Yoro (1 hr away). They are passionate about creating community, and they welcome diversity of thought in their congregations. They are also very service-oriented. This church community is small (usually 12, on celebration days, 30), tight-knit, and supportive. The church trusts the pastors, and the services are usually pretty laid back, more conversational in nature. They adored my dad's Social Justice study. They also love to visit church members' houses to have church there, especially if that person is sick/injured and can't leave the house.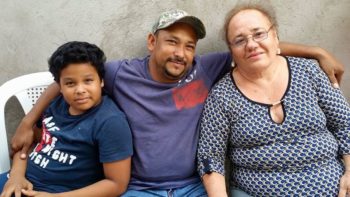 The first priority of the fundraiser is to help one of their church leaders, Selvin, rebuild his home. Here is a picture of Selvin.
He is a faithful follower of Jesus, a kind and generous man, and a single father of two boys. Selvin lost everything in hurricane Eta.
The excess funds will be used at the discretion of the pastors of the two local Mennonite churches for hurricane relief in their communities.

To donate simply click here, type in the amount you want to donate, and select Honduras Hurricane Relief in the drop down menu. December 6th is the final day of the fundraiser. We will contact you soon after December 6th to get your t-shirt total and sizes. Feel free to request multiple t-shirts, but we please ask you to donate $20 or more per shirt. We will contact you when they are available for pick up.
Together, let us EMBODY LOVE by helping support our sisters and brothers in Honduras during this tough time.