Nov 28, 2019 · Season 2 · Episode 1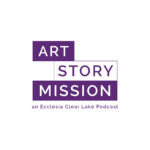 Art Story Mission returns for Season 2. This Advent we will explore multicultural and historical prayers together. In Episode 1, Lori Arnold leads us in a prayer by Aneth Lwakatare.
Aneth Lwakatare is a Christian leader and scholar from Tanzania. She serves on the World Council of Churches.
Season 2 is here! Join us for weekly Advent prayer.
During Advent and Christmas, Art Story Mission is exploring Prayer through a curated collection of historical and multicultural prayers. As we pray along with Christ followers from around the world and throughout history, we hope that your Advent season will be a time of renewed prayer and preparation for the coming Christmas celebration.
We want this season of Art Story Mission to be a simple offering, keeping with the spirit of Advent. We asked 6 people to select a prayer and include it in their daily prayer time. Each week we will feature a prayer curated by a member of our community, along with a reflection from that person's experience with the prayer.
Learn more about Ecclesia Clear Lake.
Don't forget to subscribe to Art Story Mission, and rate us on your favorite podcast platform.
production and music by John Hatfield