Apr 10, 2019 · Season 1 · Episode 6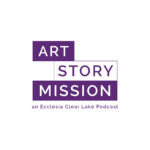 This is the final episode of season 1. Art Story Mission will return in Advent with all new stories, discussion, and voices as we continue to explore the intersections of beauty, faith, and culture. We're so honored that you've come along for this journey. Thank you for listening.
Lacy Hilbrich guides our meditation in Psalm 139 as we journey nearer to the cross in Lent.
Lauren & John discuss how the pursuit of beauty can shape our church life.
Coby breaks down a theory of understanding roles in conflict.
Hosts John Hatfield, Lacy Hilbrich, Lauren Kussro, and Coby Cagle kick off our conversation about inner healing, art, and emotionally healthy spirituality.
Art Story Mission is produced by the community of Ecclesia Clear Lake in League City, TX. Each week in this series, Art Story Mission brings you a Lenten meditation, a conversation about faith and art, and a discussion on emotionally healthy spirituality. Be sure to subscribe to this podcast so you don't miss the next episode.
You can follow our hosts here:
John Hatfield
Lacy Hilbrich
Lauren Kussro
Coby Cagle
If you'd like more information about Ecclesia Clear Lake, please visit our website.
We would love to hear from you. You can follow our hosts in the links above or send an email to podcast@ecclesiaclearlake.org